Purchase The Premium Cow Hides From Dubai Carpets Shop 
Cowhide rugs continue to be the best option. Their coziness and aesthetic appeal set them apart from other textures and patterns for homeowners. These rugs also have a number of advantages that make them one of the most well-liked options among those who decorate homes.
Benefits of Purchasing Cow Hide Rugs 
Versatile: Cowhide rugs are highly versatile. Homeowners can use these comfortable carpets in any room of the house. They might like utilizing them in different ways. A white and black rug can be hung on the wall to act as a tapestry or used as a throw on the couch. Some folks might decide to use their new investment to buy drapes to finish the rustic style.
Hypoallergenic: Finding a rug that will work with allergies might be challenging for someone who has them. The majority of people who struggle to find one find that a cowhide rug works perfectly. They are ideal for people with sensitive skin or allergies because they are inherently hypoallergenic.

Durable for Years: Many folks will be able to use their cowhide carpets for many years. They are stronger than carpets made only of synthetic materials because they are created from natural leather. The ends won't ever start to fray, and they won't have any worn patches from someone standing on them. The time when homeowners must replace their rug due to wear and tear is not when they may enjoy their rug indefinitely.
Simple to Maintain: Our genuine cowhide rugs are really simple to maintain. Other rugs need to be scrubbed, shampooed, and cleaned with carpet cleaners. Additionally, they require a carpet shampooing machine or pricey expert cleaning services. However, cleaning cowhide rugs is simple a vacuum, a brush with plastic bristles, and a towel to absorb liquids. Often, high-quality cowhide rugs will resist liquid soaking. As a result, households will spend less time and money on professional cleaning.
Complement a Wide Range of Decorating Schemes: Cowhide carpets go well with a wide range of design themes. A black and white pattern can enhance a country house or truly stand out in a contemporary living space. In low-traffic sections of the kitchen, they can be used as décor in place of shag rugs in the bedroom. Any color scheme, from red and white to lovely pastels, pairs beautifully with neutral hues. This texture and design have a place in every home. Different Texture Cowhide rugs offer a unique texture that is still unmatched by artificial materials. These bring individuality to a space and are sure to attract visitors because of their natural marks and spots.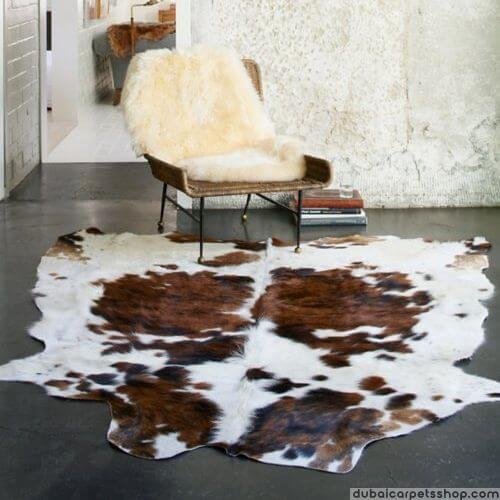 Why Choose Us? 
When it comes time to redecorate, most rugs sustain so much wear and tear over time that they end up in the trash rather than being resold. Our authentic cowhides are more durable and maintain their new-years appearance over time. Our cowhide rugs provide a plethora of advantages that astound homeowners. Homeowners who have allergies, those who enjoy the patterns and textures, or those who favor natural, hypoallergenic carpets over affordable synthetic ones continue to favor them.