Purchase The Premium Hand Tufted Rugs From Dubai Carpets Shop 
Rugs made by hand-tufting have no knots in them. Instead, wool strands are fired through a canvas using a tufting gun. A hand-tufted rug develops faster than a hand-knotted carpet. As a result, production costs are significantly decreased. Hand tufted rugs are hence reasonably priced. Dubai Carpets Shop creates hand-tufted carpets with everything from straightforward patterns to living figures and expensive tufts. 
What are the types of Hand-Tufted Rugs? 
Hand tufted carpets come in various patterns and designs, giving customers more alternatives. Modern, Persian, contemporary, and printed tufted rugs are among the available styles.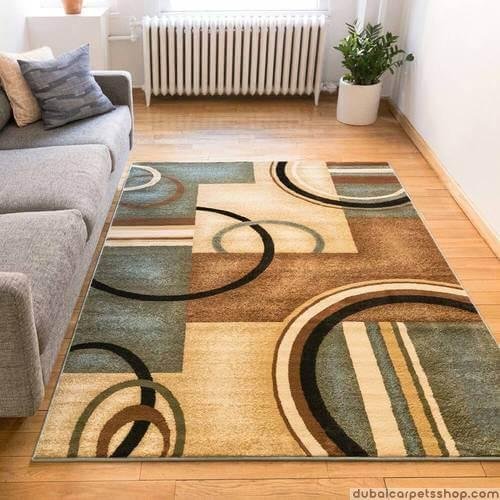 Hand-tufted wool rugs are by far the most common and often manufactured of all the different varieties of rugs.
We employ top-notch wool, including New Zealand, semi-worsted, and Indian varieties. We utilize rug fibers, including jute, viscose, bamboo silk, and others.
Our hand-tufted carpets often feature a wool and silk blend.
Benefits of Purchasing Our Hand Tufted Rugs
Tufted carpets can be advantageous in more than one way—not one, two, or three ways. You'll be surprised to learn that tufted rugs outnumber all other pile-style rugs by more than 60%.
Speedy production:

It takes less time to create rugs, no matter how big or tiny. A typical 8′ x 10′ rug can be finished in 5 to 10 days (wool is not dyed during this time).
Inexpensive:

Tufted rugs can imitate knotted carpets but are far less expensive than hand-knotted area rugs.

Durable:

Although hand-tufted area rugs do not last as long as hand-knotted rugs, they are still very durable.

Size and shape:

Small and very big sizes are also available for hand-tufted rugs. These

rugs

are available in various shapes, including round, square, triangle, animal, and bird designs. For a custom hand-tufted rug, get in touch with Faisal International.
Varied Colors Available:

The fact that tufted carpet is produced in various hues is another fantastic benefit. Your flooring should complement the walls or the curtains. You can pick a hue to make your space look more gorgeous.
Carries a wide range of patterns:

They are produced in various styles and patterns in addition to colors and shapes. You'll be surprised to learn that a hand-knotted rug can also be replicated on a carpet. Hand-tufted carpets can have contemporary, traditional, and modern designs.

No pads necessary: The back of the rug's latex takes the shape of rubber and serves as a pad. Because the rubber prevents the rug from slipping, a rug pad is not necessary.
Why Choose Us? 
We offer the best materials and finishes as defenders of great quality. Our artisans use only top-notch, allergy-free, and non-toxic materials. We carry out a thorough quality check on every rug before mailing it out. We support and promote a positive work atmosphere to encourage our gifted artisans to enjoy their work and give it they're all. In addition to offering our workers first-rate working conditions, we also pay well. We support fair trade, and we want our clients to be confident that the artisan who made the gorgeous rug they are purchasing is content and well-cared-for. Dubai Carpets Shop will never disappoint you!