Exhibition Carpets – Exclusive Sale
Typically, some carpets are only used on rare occasions, such as weddings, brand-related rituals, and parties. You've probably heard a lot about red carpet events. Indeed, the most well-liked type of display carpet is the red one. Such carpets have a lovely appearance and a superb structure. Exhibition carpets are used for a variety of reasons on a global scale as well. When a representative from another country visits, these exhibition carpets help to create a dignified atmosphere for them. It has gained enormous popularity since emerging on a national scale. On the other side, the use of show carpets in award ceremonies and star events is expanding daily.
People will enjoy walking through the red carpets, which serve as a gesture of respect for the guests. Finally, the designs, patterns, and elegance of display rugs have a significant influence on visitors.
What are the Exhibition carpets?
Exhibition carpets are movable carpets or hard surfaces that may be purchased for virtually any occasion. By using carpet flooring specifically made and intended for exhibition and job fair spaces, you can make sure that every aspect of your exhibition area is branded for your company. This rope carpet is made for highly populated areas with plenty of foot traffic and is made of a sturdy, long-lasting fabric to prevent fraying or damage throughout the event.
What are the Advantages of Exhibition carpets?
You might be unsure of the best type of flooring to use if you're planning an indoor or outdoor event or show. Consider carpeting as your preferred floor covering if you want to. While carpet does keep you safer when walking on it on an occasion than tile or wood, and while it can provide a touch of color to an otherwise colorless event, many people adore the carpets in their exhibition. Here are some benefits of them.
High Calibre
Foot traffic is heavy at exhibits and trade shows. You require a durable cord carpet that can sustain thousands upon thousands of feet across several days while maintaining a polished, like-new appearance. Crafted and intended for the task
Finish Up Your Branding
Have you put a lot of effort into creating a branding package for your exhibition booth that radiates your business's colors, logos, and slogans? Don't skip the last step and disregard how crucial the flooring is. For a high-impact and professional trade exhibit, include your company's colors in the floor area.
Eco-friendly option 
Our selection of environmentally friendly carpets is another benefit of choosing show carpets. The majority of the floorings in our selection are gathered after use and made available for recycling. By doing this, we can guarantee that used display carpets are broken up and melted to manufacture new plastic goods. Corporate social responsibility must be demonstrated in all of our efforts, in our opinion.
Comparatively Cheaper
Exhibition carpeting is frequently less expensive than wood or tile flooring, depending on the style you choose to buy. Due to how quickly carpets deteriorate and become damaged, this might only be a temporary advantage. As a result, they require replacement more frequently than hardwood or tile floors, which raises the expense.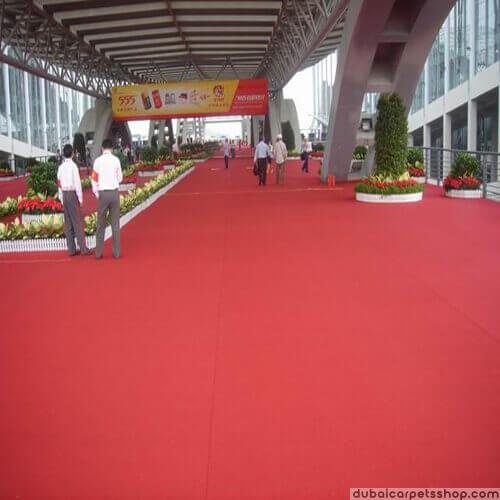 Why choose us?
Dubai Carpet Shop is the greatest option if you're seeking the ideal carpet for your house or place of business. We are one of the most reputable and skilled carpet suppliers, offering the highest quality Exhibition Carpets. Choosing the ideal material product from us is assisted by our qualified experts.