You Can Purchase The Premium Handmade Rugs From Dubai Carpets Shop 
Handmade rugs are priceless pieces of furniture that may add character to any home. A luxurious handmade rug adds character to a city home, enhances the space, and unifies the décor. However, handmade (or even hand-tufted) rugs have even more benefits. Dubai Carpets Shop has the best and most classy handmade rugs to give your interior an aesthetic appeal! 
Benefits of Purchasing Our Handmade Rugs
Luxurious Handmade rugs give a home's interior character: Handmade Rugs embellish the room along with furniture, linens, and other furnishings, producing a distinctive look that reflects the preferences and tastes of the home's occupants. Rugs can transform a metropolitan home into a hideaway reminiscent of the sea, the mountains, or far-off places.

Every space can have a unique appearance thanks to the selection of handcrafted luxury rugs: Each space can have its personality. Warm, hand-made rugs in calming colors are ideal for bedrooms, while sophisticated or eye-catching patterns are appropriate for living rooms. You can select the best carpet model by carefully considering the peculiarities of each room in your house.
Handmade rugs lend a cozy and homey feel to a space: Handmade luxury rugs provide a home a cozy and homey air, whether it is a house that only a select group of family and friends frequent or a location where parties and receptions are frequently held. The room's temperature can be somewhat controlled by the materials and colors used to create a warm, inviting atmosphere or, on the other hand, a more formal, frigid one.
Handmade rugs increase thermal insulation while warming the space: Handmade rugs impact your home's thermal insulation when it comes to temperature. You can use this material's insulating qualities, feel warm during the cold months, and keep the heat out during the hottest days, especially if you choose wool rugs.
Handmade Rugs offer better sound insulation: Handmade rugs' plush texture also reduces noise. Place adequately large rugs in the busiest rooms of your multi-story home or apartment building to assist keep the space calm or at least lessen the sound of youngsters, pets, and footfalls. This is even more true if the carpet has a tall, thick pile.

Customization options exist for handcrafted carpets' size, style, and pattern: Finding the ideal pattern for each room is feasible when you use handmade carpets to decorate your city house. You can also utilize custom carpets if you require a carpet of a specified size or desire a particular design. In this situation, you are fr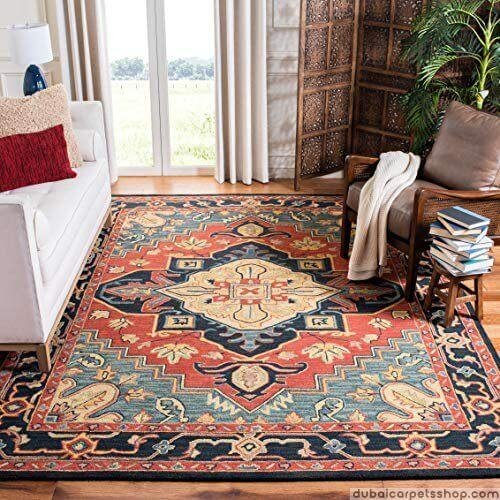 Why Choose Us? 
Because our handmade luxury rugs are of such excellent quality, maintaining their appearance for a long time doesn't require any particular maintenance. Routine maintenance is required to maintain the design's robustness and attractiveness. 
Our goal is to provide extraordinary, superior-quality rugs that are also created ethically. Every single one of our products is genuine and entirely original. We are deeply committed to preserving civilizations and rediscovering endangered rug-weaving customs. For us, rug weaving is not just about the money; it's also a vital craft that preserves the aesthetic expression of some of the most wealthy cultures in the world while assisting in the creation of distinctive living spaces.